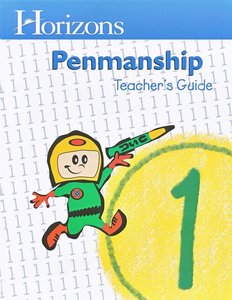 Alpha Omega Horizons Penmanship Grade 1 Homeschool Set
Grade:
1
MPN:
JSP115
ISBN:
740302078
Retail Price:
$31.95
Price: $29.66
Free USA shipping!
Turn your homeschooler's scribbles into artful script! With the Horizons 1st Grade Penmanship Set, you'll teach proper manuscript writing with penmanship skills that encourage correct pencil grip, stroke, spacing, margins, and more! Set contains one student workbook with 160 fun-filled lessons and complete teacher's guide.
Horizons Penmanship is an elementary curriculum for students in grades 1, 2, and 3. This curriculum helps students build a strong foundation in communication skills through a wide variety of lessons and activities that practice spelling, vocabulary, penmanship and creative writing.
Samples
Look for similar items