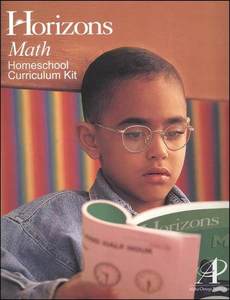 Alpha Omega Horizons Math Grade K Complete Set
Grade:
K
ISBN:
9780740303135
Retail Price:
$69.95
Price: $67.96
Free USA shipping!
No more hours of boring, endless repetition - your kids will actually thank you for this interactive math curriculum! Each level has two student workbooks, but the teacher handbook is the main component of the program. All instruction is provided through one-on-one teacher instruction, which is the biggest difference between Horizons and the self-guided Lifepacs.
Another big focus in Horizons is hands-on learning using a variety of manipulatives, which can mostly be found around the house: pencils, pipe cleaners, play or real money, thread, a timer, clock, yardstick, etc.
Novice home-educators should not be intimidated by the amount of teacher involvement as it is carefully layed out in the beginning of each year's teacher handbook. The teacher handbook also provides a variety of teaching suggestions and supplemental activities for additional practice.
The concepts covered in Horizons K include
Printing of numbers 0-100, simple addition and subtraction, skip-counting (by 10's, 5's, 2's, 3's, and 4's), place value, measuring, calendars, time and money.
Look for similar items