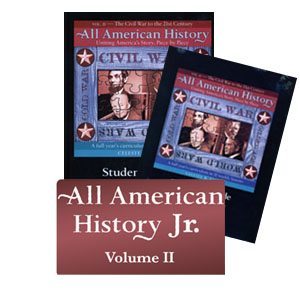 All American History Jr. Volume 2 Digital Download
Retail Price:
$45.95
MPN:
AAH2Jr
ISBN:
1580956483
Price: $39.88
Free USA shipping!
Attention You will receive an e-mail with a digital download code (please check your spam folder if you don't see it within 24 hours of your purchase)
Concerned that using All American History Volume II might be too much for your elementary-aged student? Although the program is tweak-able, tweaking takes time. It also takes time to find coloring pages, create your own notebooking pages or folder books, plan a simpler schedule, etc. What if we did all that for you?
All American History Jr. Volume II Includes: Lesson Plans with:
Smaller amounts of lesson material for your student to read Additional elementary-friendly hands-on activities Challenge Cards "- ready for you to print out Simplified Folderbooks "- 5 total for the year Maps Puzzles Pictures Notebooking Pages Coloring Pages
5 literature study guides for books that will complement your studies:
Look for similar items