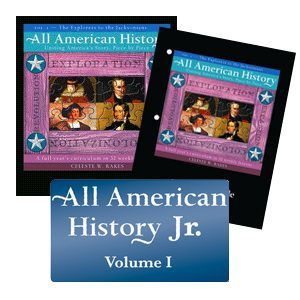 All American History Jr. Volume 1 Digital Download
ISBN:
9781580956727
Retail Price:
$58.95
Price: $39.88
Free USA shipping!
Attention You will receive an e-mail with a digital download code (please check your spam folder if you don't see it within 24 hours of your purchase)
Concerned that using All American History Volume I might be too much for your elementary-aged student? Although the program is tweak-able, tweaking takes time. It also takes time to find coloring pages, create your own notebooking pages or folderbooks, plan a simpler schedule, etc. What if we did all that for you?
All American History Jr. Volume I Includes: Lesson Plans with:
Smaller amounts of lesson material for your student to read Additional elementary-friendly hands-on activities Challenge Cards "- ready for you to print out Simplified Folderbooks "- 5 total for the year Maps Puzzles Pictures Notebooking Pages Coloring Pages
5 literature study guides for books that will complement your studies:
Explorers Who Got Lost by Diane Sansevere-Drehe 3 Young Pilgrims by Cheryl Harness A More Perfect Union by Betty and Giulio Maestro Trail of Tears Joseph Bruchac Erie Canal by Cheryl Harness
All American History Jr. Volume I requires the use of the All American History Volume I Student Reader and the Teacher's Guide. By using All American History Jr. you will not need a Student Activity Book (SAB) for your younger students. (The Notebooking Pages along with maps act as a substitute for the SAB.)
Look for similar items