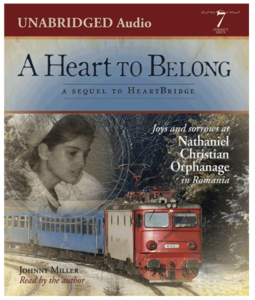 A Heart to Belong Unabridged Audio Book on CD - Johnny Miller
Author:
Johnny Miller
ISBN:
1936208059
Retail Price:
$16.99
Price: $15.29
Free USA shipping!
Now you can listen to Johnny Miller's account of their second and third years at the Nathaniel Orphanage while you work or drive. This unabridged audio version of the book A Heart to Belong is sure to make you laugh and cry. A perfect gift for those with failing eyesight or who have trouble reading.
Within the heart of every child is a desire to belong, a yearning to feel at home. But where can innocent children turn when their small world becomes a place of abuse, neglect, or abject poverty that threatens to crush them? Will they find someone who cares?
A sequel to HeartBridge. 7 CDs, approximately 8 hours. Read by the Author.
Look for similar items