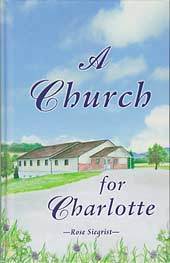 A Church for Charlotte - Rose Siegrist - Eastern Mennonite Publications
Author:
Rose Siegrist
MPN:
71811
Retail Price:
$9.95
Price: $8.94
Free USA shipping!
Eleven-year-old Charlotte Brubaker, along with her family, has moved to an area distant from their home congregation. She struggles with homesickness, limited fellowship, and many unanswered questions. What building will be our meetinghouse? Can only three families form a congregation? Who will be our church leader? Will we have a church school?
Answers are not immediate, but Charlotte discovers that Christian families can rest in God's care. Wherever God leads His people, He provides a church for the family, a school for the children, and leaders for the congregation.
Charlotte enjoys good home relationships, and communicates freely with her family. She learns to trust God and love the church. Along with her family, she finds joy in practical service and willing sacrifice. Her example will inspire others to serve God and love the church.
Look for similar items